Although every person's experience with an abscessed tooth is a bit different, many stories begin the same way. At first, you might notice sensitivity to hot and cold foods. Next, even biting becomes a little painful. Then, there is a dull, throbbing sensation. Finally, severe pain strikes. It might wake you up in the middle of the night or catch you during an important life event, like a wedding or graduation. The best way to prevent an abscessed tooth from ruining your day is to get regular checkups from your dentist and practice good oral hygiene. Knowing the symptoms of an abscessed tooth can help you recognize the issue quickly, and the earlier you receive treatment, the better.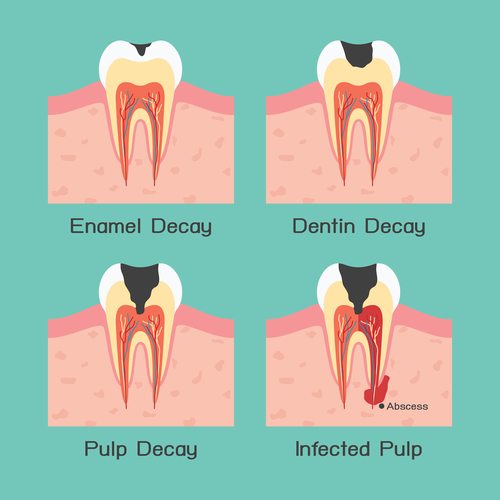 Symptoms of an Abscessed Tooth
A tooth abscess is an infection. When a tooth becomes damaged from an untreated cavity, a broken tooth, or gum disease, bacteria can start to spread all the way down to your tooth's root. As a result, a pocket of puss may begin to form. In some cases, the abscess can come to the surface and rupture, which might provide temporary relief. A tooth abscess won't get better on its own, however, and avoiding your dentist will only make things worse.
Are you experiencing any of the following symptoms of an abscessed tooth? If so, it's time to make an appointment with your dentist.
An intense, persistent, and throbbing toothache 

Sensitivity to hot or cold foods and drinks

Pain when chewing

A swollen cheek

Fever

Tender, swollen lymph nodes around your jawline and neck

A bad taste or foul smell in your mouth

Irritated gums

Trouble breathing or swallowing
In some cases, you might not even realize that you have a tooth abscess. Luckily, your dentist can often spot one with an x-ray, and catch the problem before the infection spreads to your bone.
Treatment
Your dentist's first priority will be to get rid of the infection (source). Some dentists begin treatment with a round of antibiotics as a preventative measure, while others will only prescribe them if the infection has spread to your jawline or other parts of your body. Depending on your condition, your dentist might have to extract your tooth to remove the abscess. In many cases where there is still enough healthy tooth left, a root canal can solve the problem. Your dentist can cover the site with a natural-looking crown. In more severe cases, you might need surgery so that the abscess can be drained.
How to Prevent an Abscessed Tooth
You can prevent an abscess by practicing good oral hygiene and visiting your dentist twice a year. Using x-rays and a thorough exam, your dentist or dental hygienist might be able to identify and treat potential causes of an abscessed tooth, like an old filling or a hairline crack in your tooth.
In between visits to your dentist's office, keep your teeth and gums in great shape by sticking to an effective oral hygiene routine:
Brush your teeth at least twice a day for two minutes.

Use mouthwash and fluoride toothpaste.

Floss every day.

Stick to a healthy diet, avoiding sugary foods and drinks.

Drink plenty of water.

Make a dental appointment right away if you notice any signs of a cavity, a cracked tooth, or any other dental issues.
_____
If you're experiencing any symptoms of an abscessed tooth, contact a dental office with an experienced team right away. At Duff Family Dental, we will help ease your pain and get your teeth in the best condition possible. We provide an array of general and cosmetic dental services, including regular cleanings, crowns, implants, and removable dentures. If you live near Springfield, Missouri, make an appointment by calling us at 417-501-8601 or contact us online today!