If you pay attention to your teeth and gums, you'll find that they can tell you a lot about your dental hygiene and your overall health. You might be familiar with the common symptoms of dental issues, such as pain, swollen gums, and sensitivity, but have you thought much about the signs of healthy teeth and gums? Knowing what to look for in a healthy mouth can help you set goals to prevent future dental problems. So grab a mirror, and start looking!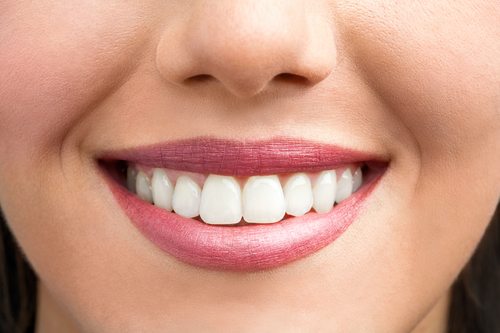 Signs of Healthy Teeth and Gums
Firm, Pink Gums and Dental Tissue
You might spend so much time thinking about your teeth that you forget to pay attention to your gums. However, your gums are crucial for keeping your teeth healthy. They should be pink, not red or white. Wash your hands and glide your finger along your gums. If your gums are firm and pain-free, that's a good sign.
You should also pay attention your tongue and the inside walls of your mouth. Just like your gums, this tissue should be firm and pink. Your mouth should also be moist because saliva constantly flushes out extra food particles from your teeth. If your mouth is dry, you could be dealing with a larger health issue like diabetes or Alzheimer's (source). When you brush your teeth, always pay attention to your tongue and remove any plaque, which can show up as a white film.
Sturdy Teeth and Dental Restorations
Unless you're a kindergartner (in which case, I doubt you would be reading this), your teeth shouldn't be loose. If you can wiggle any of your teeth, it could be a sign of gum disease, so consult your dentist immediately. The same rule applies to any crowns or fillings you have. Dental work can become dislodged over time and harbor plaque and bacteria, so always be on the lookout for spots that appear to be loose. Most reliable dentists will check your fillings each time you visit, but you might be able to spot a problem area before your dentist if you are pay attention between visits.
Neutral-Smelling Breath
Although mouthwash, toothpaste, and mints can make your mouth smell pleasant, your mouth probably doesn't naturally have a minty-fresh smell. A healthy mouth should have a relatively neutral smell. Mouths that emit a foul odor might have pockets of bacteria hiding underneath the gums, and bad breath can also be a sign of untreated tooth decay. When you floss, pay attention to any unpleasant smells. If you notice that you are removing a lot of smelly food particles, you could be in an early stage of gum disease.
No Blood When Brushing or Flossing
The next time you brush and floss, pay attention to the mirror and the sink. Healthy teeth and gums shouldn't bleed regularly, and if they do, don't ignore it. Make sure to consult with your dentist if you notice a reoccurring pattern, even if it is just a small amount of blood. The number one cause of bleeding gums is built-up plaque along your gumline, so make sure to brush gently along all the surfaces of your teeth to prevent gingivitis (source). Brushing too hard can also cause your gums to bleed, and it can even damage your enamel. Make sure to use gentle, circular motions when you brush and use a soft-bristle toothbrush.
_____
Now that you know the signs of healthy teeth and gums, are you ready to take the necessary steps to keep your mouth healthy? If you're looking for experienced and friendly dental hygienists and dentists who can help keep your teeth in the best shape possible, visit Duff Family Dental if you live in southwest Missouri. Make an appointment by calling us at 417-501-8601 or contact us online today!